As usual there was quite a lot of alcohol drunk over the week at Nantcol, but I am very happy to report that everyone kept their decorum very well (cough splutter)
Round the campfire on the first night everyone was just unwinding and in a nice drunken haze when Rach appeared. It's amazing how stone cold sober everyone suddenly became once Rach crawled amongst us over the tripod with a bottle of red wine in her hand. Lack of chairs wasn't a problem as Rach snuggled up on everyones laps/backs/floor
Hiya Rach!
Within 5 minutes she had asked us all if anyone would like to see her tits? (the women all said no, the men were suitably quiet with their fingers crossed hoping she might do it anyway). We managed to persuade her they were much safer in her nice woolly cardy, but she didnt give up lightly. She agreed to keep them in as long as she could have a full body paint the next day. So we all agreed, although after 3 days of Rach on a bender it would make more sense if she had been body painted as a bottle of red wine from the start
Being relatively sober I offered to walk Rach back to her tent (not a lot of choice really as Rach was convinced her tent was in the opposite direction). Walking back I came across another group of our lot snuggled round the campfire. I had 2 options...
1. Do the honourable thing and introduce Rach quickly and walk her back
2. Introduce Rach quickly and run in the opposite direction, so passing on 'Rach duties' to the next group
I chose option 2. Well I tried to. Until Margo caught me up and pleaded with me not to leave the rach time bomb there. Hmmphhh... So with some new recruits we walked Rach back and dumped her quick
In fairness she wasn't the only one to crawl round the campsite. Cathys partner Alan was a very quiet character and only actually joined us round the campfire after a few days had passed. I think he found the whole prospect a bit daunting and had a few beers in the day to relax him. By the time he got to the campfire he was so 'relaxed' he fell off his chair after 10 minutes and just crawled off down the field in a blur
We even had musical accompaniment on one night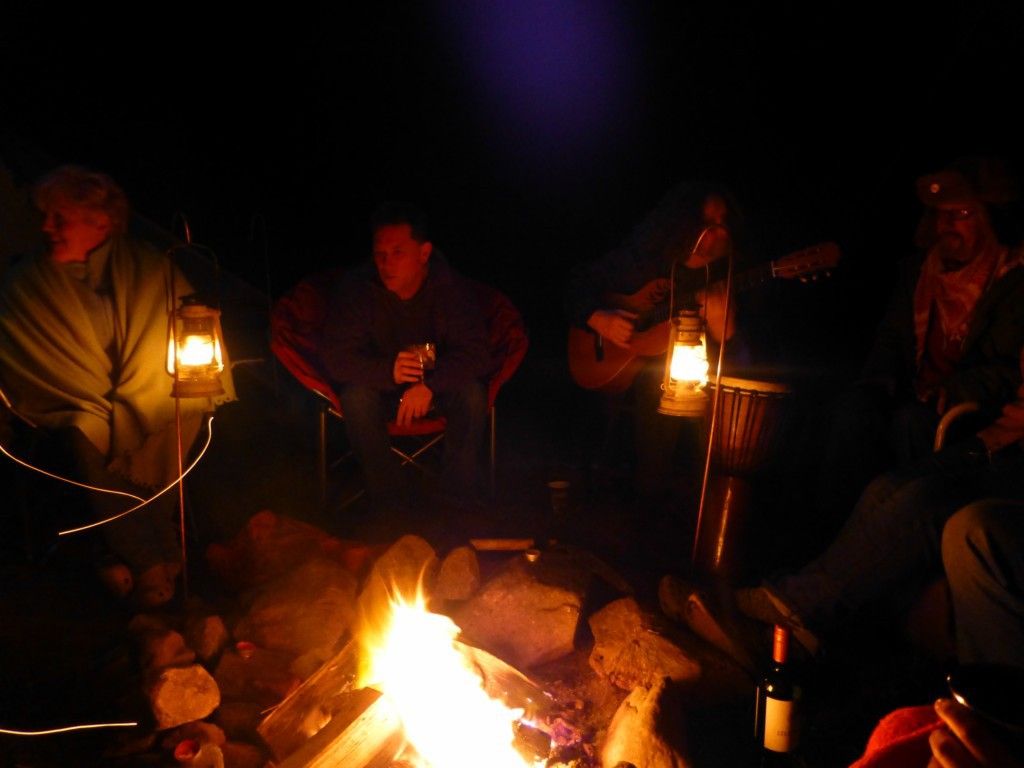 In the days we were all pretty sober though and did actually manage to get up and out
Me, my daughter Christie and her BF Matt decided we were going to go up Snowdon. So up nice and early we drove the 30 mile to the bottom off the mountain with our newly purchased walking boots, a packet of blister plasters and enough food to feed a Everest expedition
and we're off..
The problem we had was although i have done the route a few times, it was very misty. After the lakes you hit a bit where you have to climb the boulders, and on looking down I did suggest we take a sort of compass reading to make sure we came back down the same way...But we all agreed we just needed to get our bearings from the lake and would be fine
A quick rest on the way up at the 'bus stop'. We managed to catch up with the man with the prosthetic leg here, who had overtaken us a while before
The moment when we realise the summit is just over to the left - the views obviously made it all worthwhile...
At the top...hooray!!
Once at the top I invested in some new gloves and a sweatshirt. Bliss! warm and toasty coming down. Which was just as well, as we got lost again.
The lake where we were supposed to take our bearings wasn't there anymore. There was mist. Everywhere.
So we tore down at a very impressive pace, even though we hadn't actually got a clue where the path had disappeared to. We managed to regain a trace of a path and after 10 mins I realised we were on the pyg path, as opposed to the miner one we had come up on. I dont like the pyg path :(. So sort of having my bearings went for a bit of a mooch to see if there was a way to traverse down to the miners...
As I went lower, yayyy, the mist cleared and I could see the path below that we wanted, it was just a matter of getting down (and convincing Matt and Christie we weren't going to die. Although we had the conversation several times on the way up of who we would eat first once the jelly babies ran out, so we all knew where we were in the pecking order)
The mist clears, and we are supposed to be down there...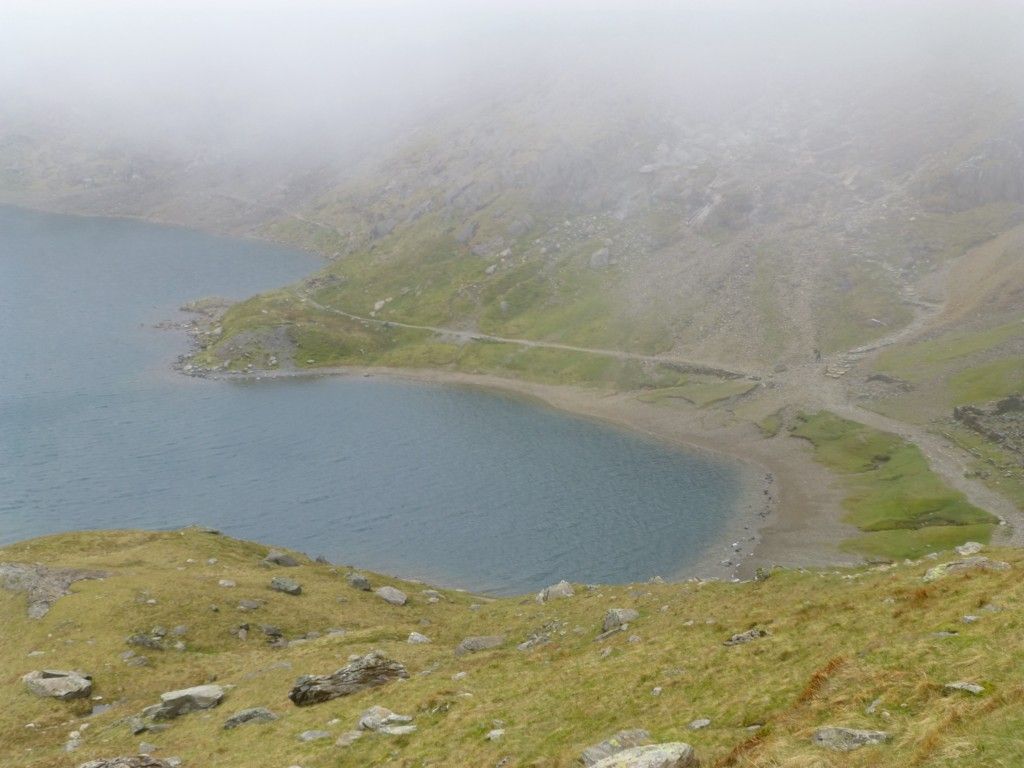 Christie was easy to convince that it was a doddle just getting down to the other path (bear in mind she has inherited my warped genes...)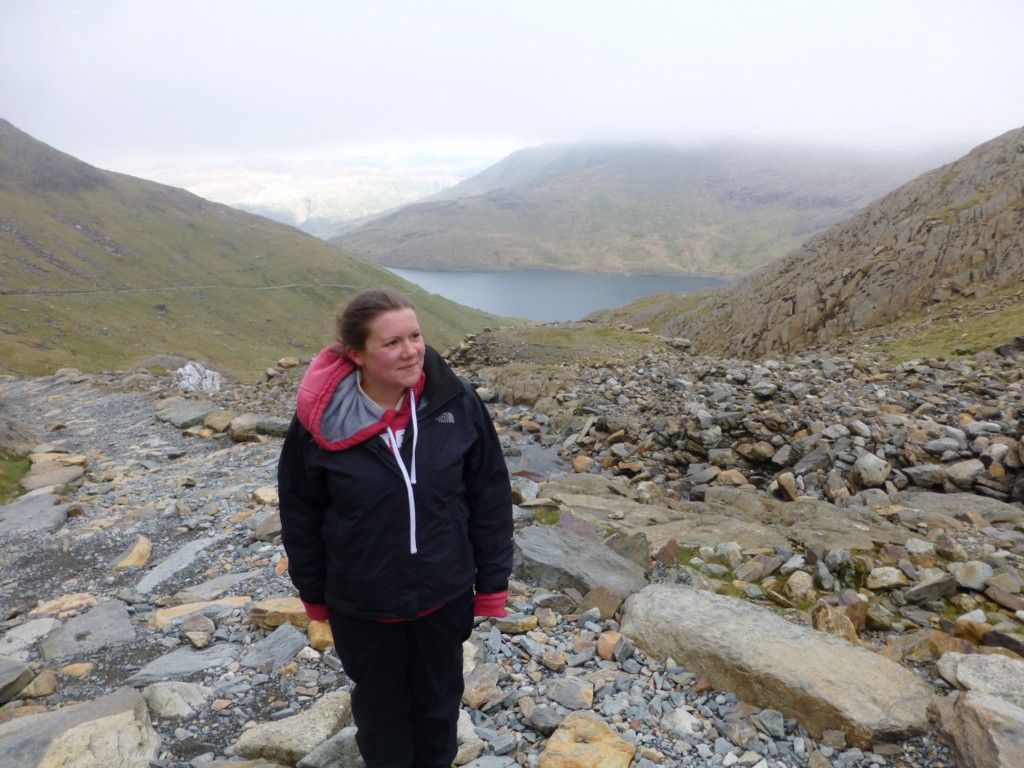 A pic taken when I walked up snowdon in the summer, showing the route we went and the route we should have taken....
Safely at the bottom, we drove back with a short detour to Beddgelert to see Gelerts grave (is more of a annual pilgrimage, I have visited this dogs grave more than my dads i think)
Bggry Snowdon when the mist cleared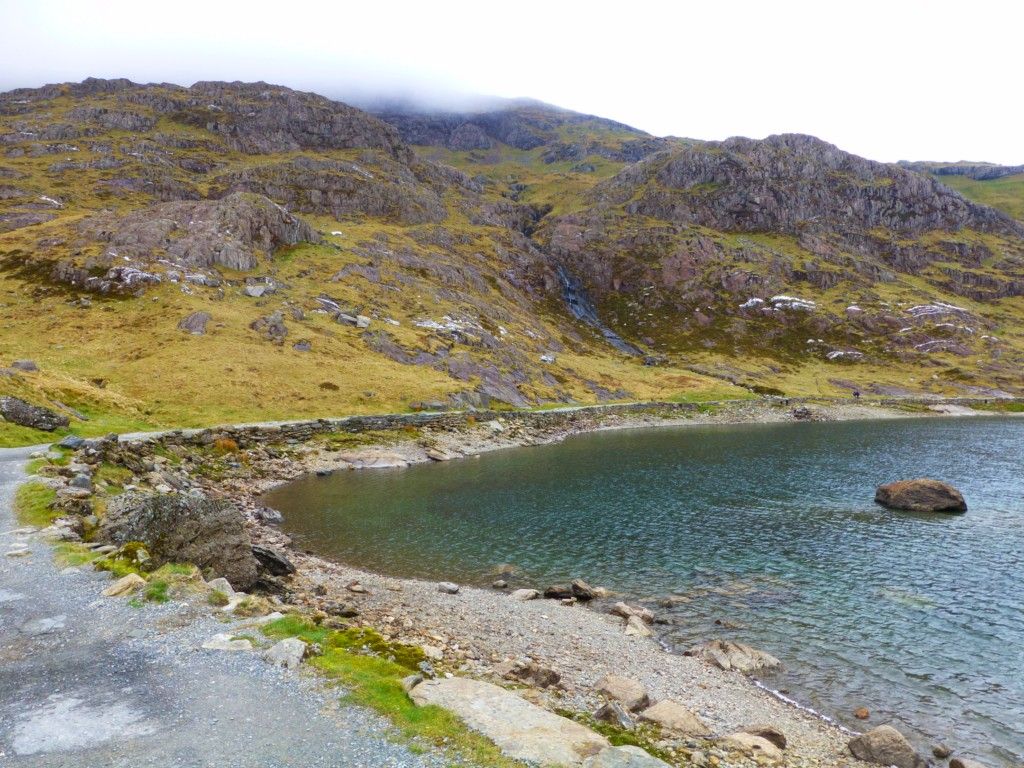 My other daughter arrived with Rocket Banger that evening, so we had their company for the next couple of days...