So the latest project was one that had been sat around for three years. Based on a pattern for an Amy Butler quilt, but using some cheapo fabrics as well - It worked out too expensive to use all Amy Butler.
So some Moda, Michael Miller, and tat ebay fabrics were also included.
I hate using wadding, but do like the depth of quilting, so I cheated, and used a 4.5 tog summer double duvet
Despite Tarquin's greatest efforts to hamper the project, it was complete over a couple of days. The dog is not an essential part of the tutorial, and in retrospect, I would probably not use his assistance next time
Materials
Fabrics of choice (no idea how much, just guess - You can tell I don't do tutorials for a living)
Cotton that matches sort of, out of the jumbled thread box
4.5 tog Double duvet - dimensions 200cmx200cm (standard size - i got mine for £6.99 at B&M - but available anywhere)
1 yard of material to make the bias binding, alternatively buy 8m of bias binding
Material for backing 200cm x 200cm - I used one side of a king quilt cover and cut it down, rather that un-stitch the seam on a double cover. Alternatively a flat sheet would work
If required - Pom Pom edging:
2 @ 50g of contrasting wool for crochet edging if required (100g in total, but I use double thickness, so two balls is easier to work with)
5mm crochet hook
a large tapestry needle to sew the wool (it needs to be a sharp point)
Method
Fabric cut into rectangles
Cut the fabric into even width rectangles/squares. Mine differed on depth, but as it was strips it meant the verticals all lined up ok - therefore I didn't waste fabric trying to make them all the same size. Also, if you vary the widths, it means you don't have the horrid job of lining it up horizontally as well, when you stitch it together :) Just trim each strip so it is the same width top and bottom, before you stitch them all together,
STEP 1 - REMOVE DOG FROM SEWING TABLE
Patchwork sewn - notice the squares are not perfectly aligned
Press the seams and stitch all strips together - it needs to have the dimensions of 200cm x 200cm. (obviously for a smaller quilt base it on the dimensions of a single quilt).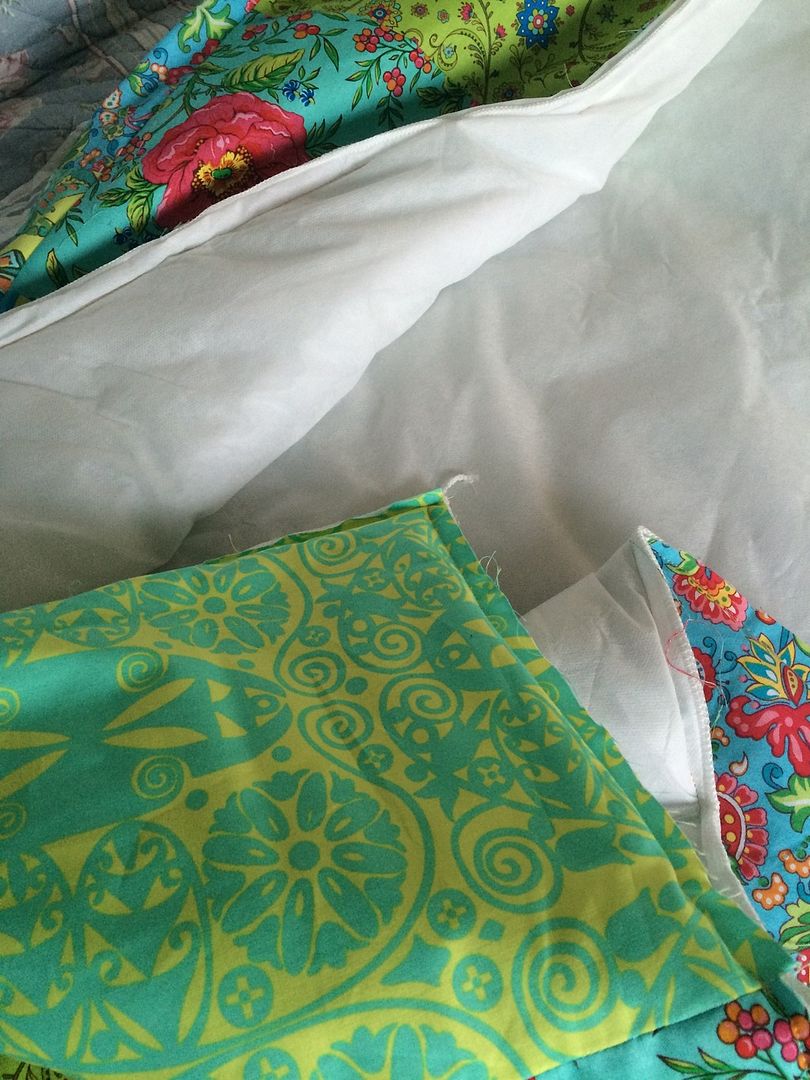 Then working all around the edges sew the patchwork to one side of the duvet and turn over and sew the backing sheet to the back - use as small a seam as you can, as you need to cover the stitching with the bias binding.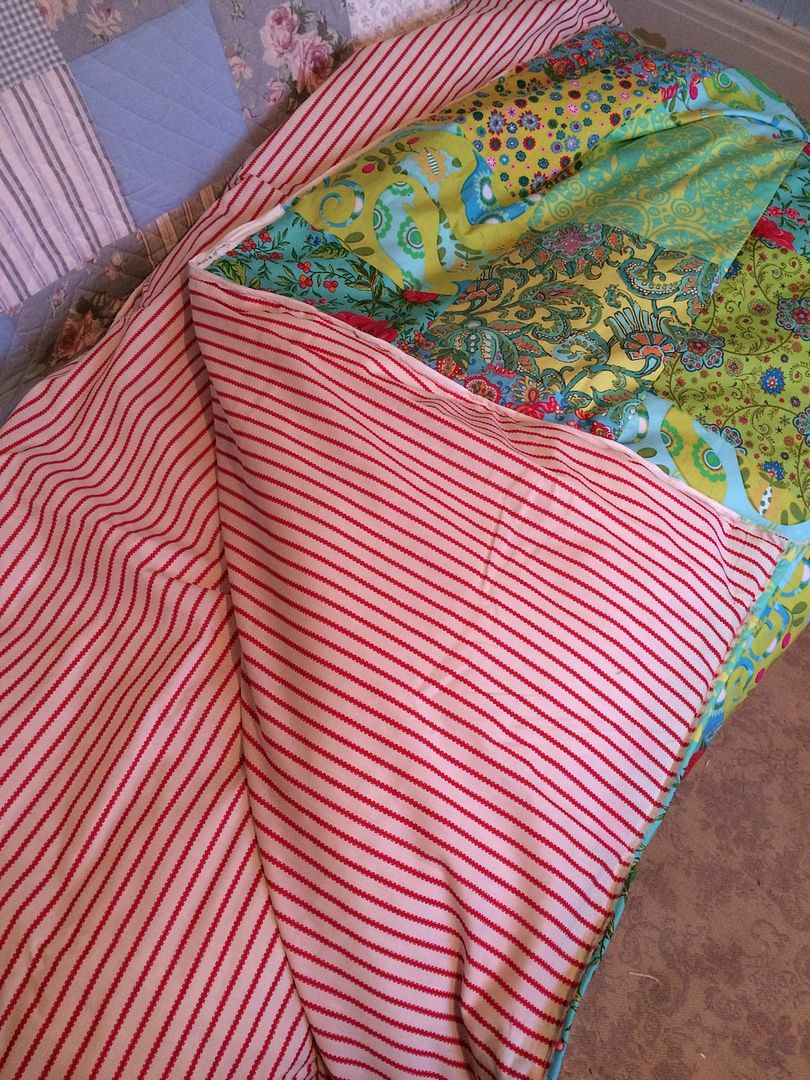 I don't do pinning or tacking, but as there is no movement in the duvet fabric it fits perfectly (unlike wadding, which I despise working with)
STEP 2 - REMOVE DOG FROM MATERIAL WHILST SEWING
Then sew your quilt line stitches - basically retrace all the patchwork joins, sewing through the entire quilt and backing fabric. I have an old singer seamstress machine which coped easily. Being quite a large throw, the centre rows are a bid fiddly to sew, but the duvet bunches through a standard arm machine ok
STEP 3 - REMOVE DOG FROM FINISHED PATCHWORK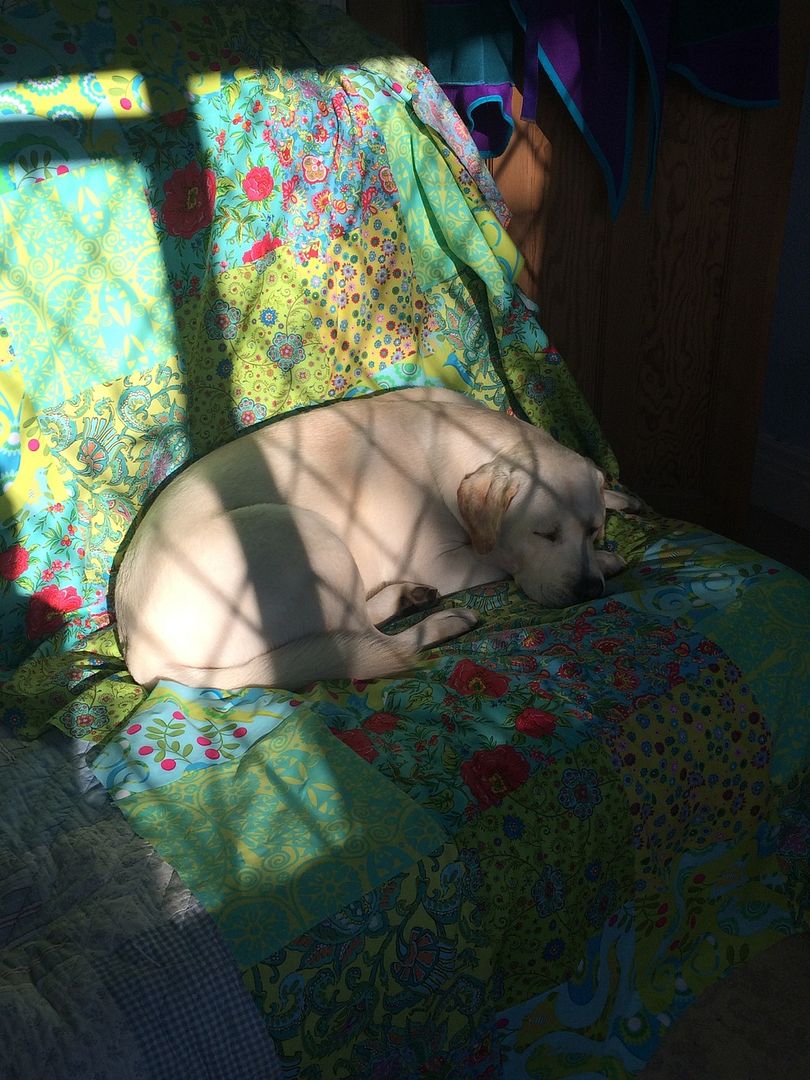 Next bit is the bias binding edging. I has a search around and found a few tutorials for continuous bias binding. This shows the method better than most of the links, which can be a bit confusing:-
http://so-sew-easy.com/making-continuous-bias-binding-tape/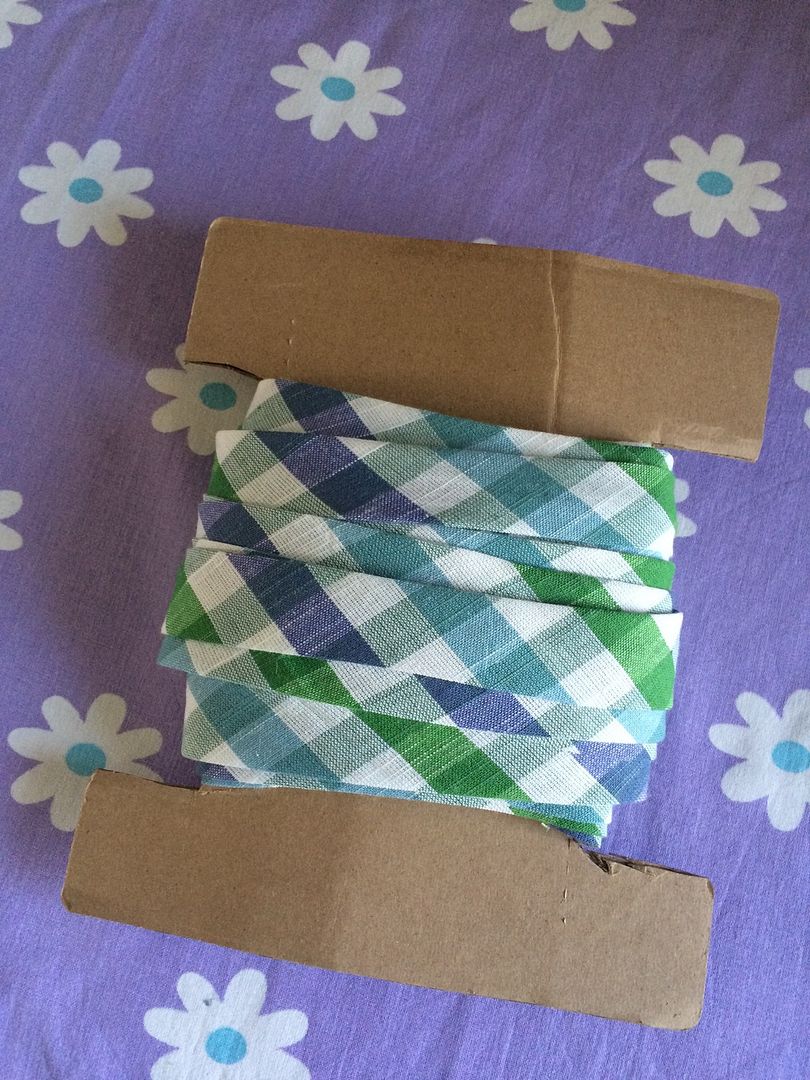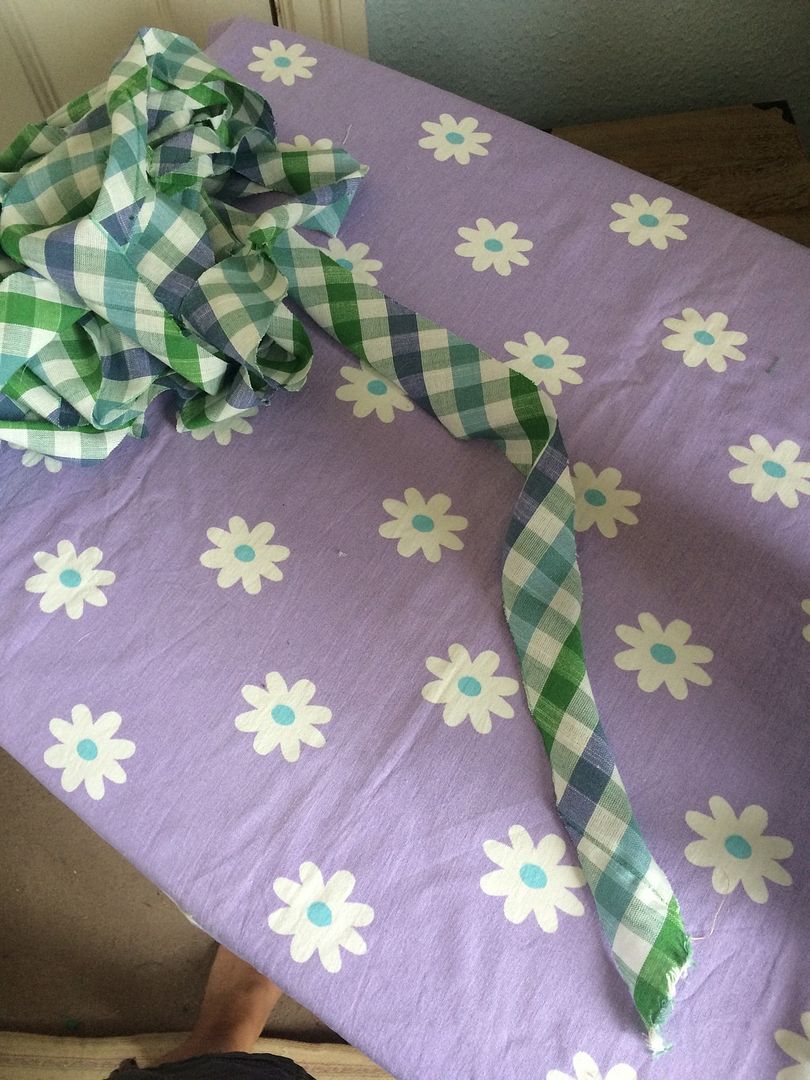 If its any consolation none of my two inch strips actually lined up, once i sewed the tube together...
STEP 4 - REMOVE DOG FROM LAP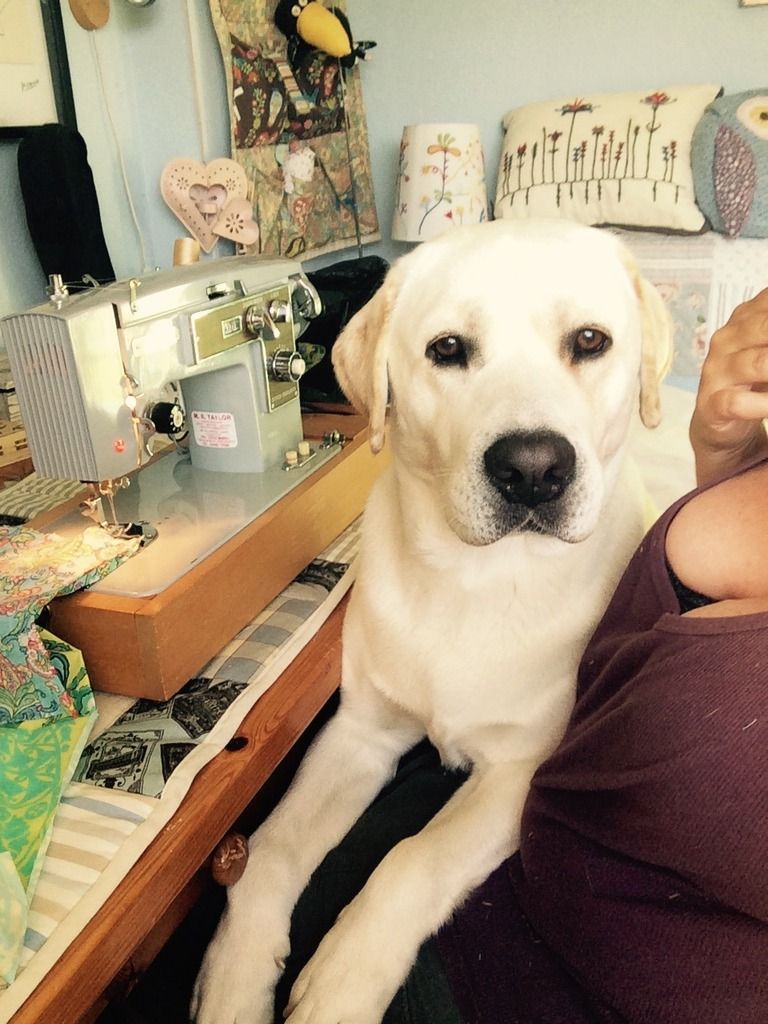 Using a 1 metre square, it gave me enough binding to go round the edges. Sew this onto the reverse first, then the front - it avoids tram lines on the front. I obviously did it the other way round. Bit of a boring task, but you could always buy ready made bias.
STEP 5 - STOP DOG FROM DRAGGING SHORTS OFF


This is the basic quilt finished, and its optional if you want to start adding the crochet pom pom edging

Pom Pom Edging
You can leave with just the bias binding edging, but I decided to over complicate it by adding a crochet pom pom border..
First step is making a way to actually crochet onto the fabric. There are pointed head sharp crochet hooks available, but only up to about 2mm, so of no use to me, as I always use double knit minimum.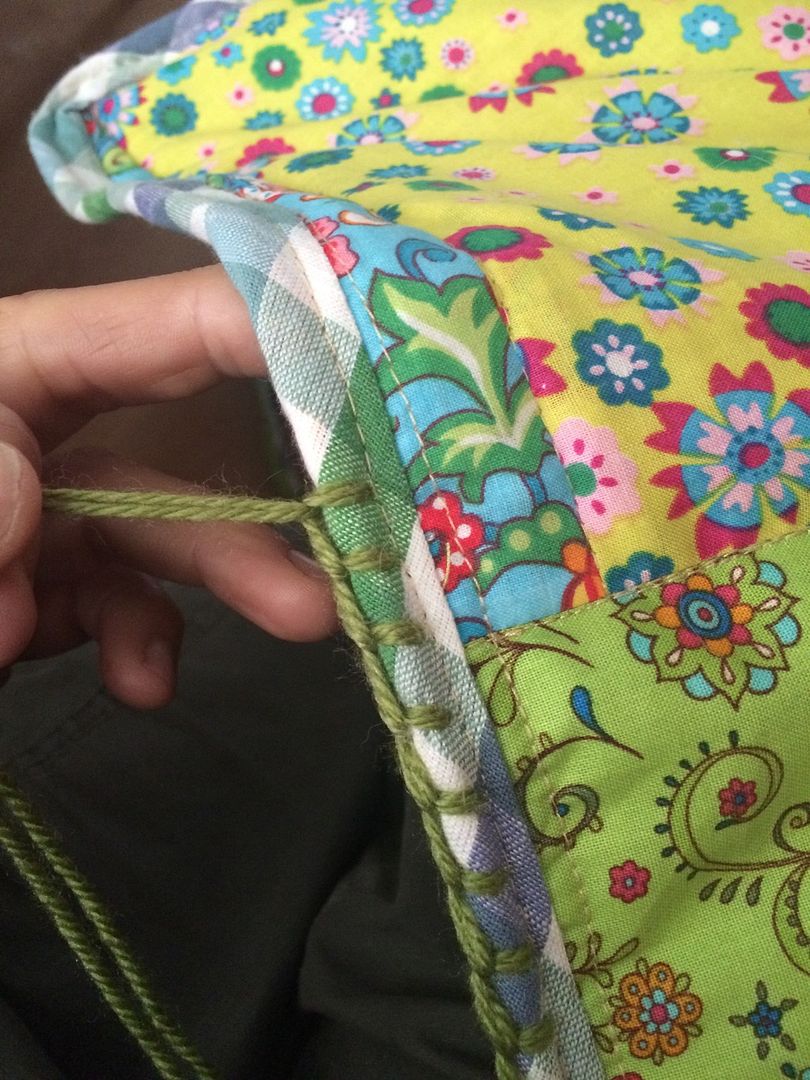 So the easiest way I could find to do it was to do a 'blanket' stitch all around the edge. By a stroke of cunning I realised I only had to do three edges, as the top didn't need the pom poms. So I started off sewing along the first side. Which happened to be the top :(. I was gutted as I realised I had just finished the side I didn't need to do. The stitches are evenly placed about 1cm apart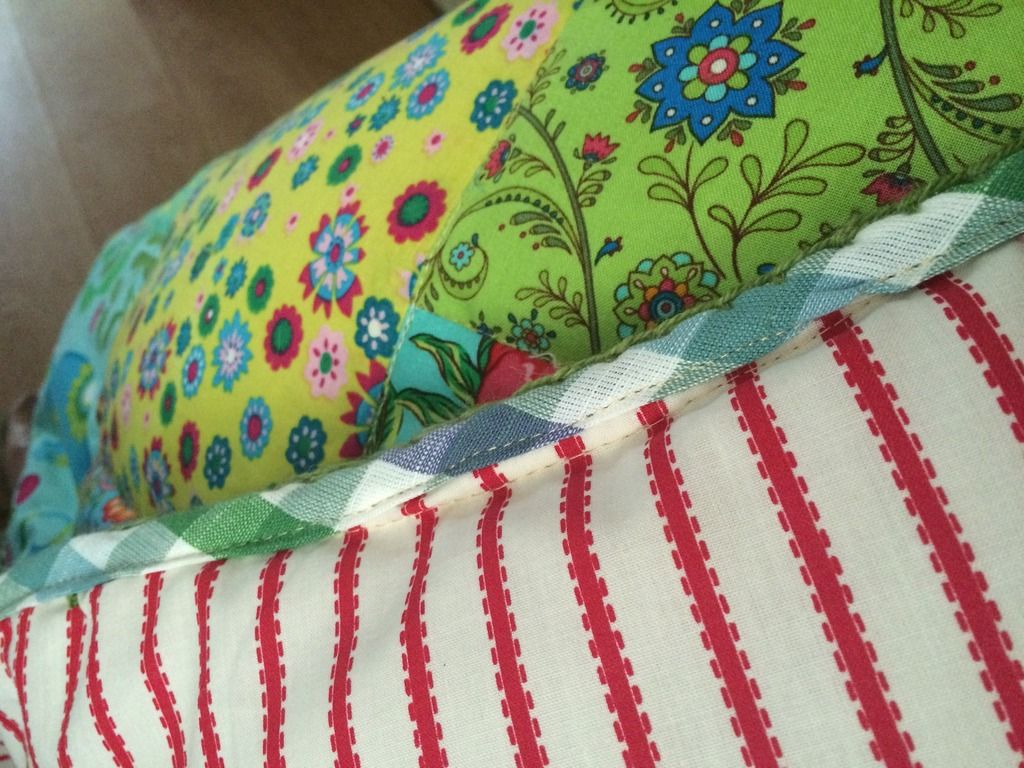 The reverse of the blanket has no stitching showing
For the blanket stitch and the crochet pom pom edging, I use double thickness double crochet (i.e. 2 balls at a time on the pom poms, or sewing it doubled on the blanket stitch)




















STEP 4 - REMOVE DOG WHILST STITCHING BLANKET STITCH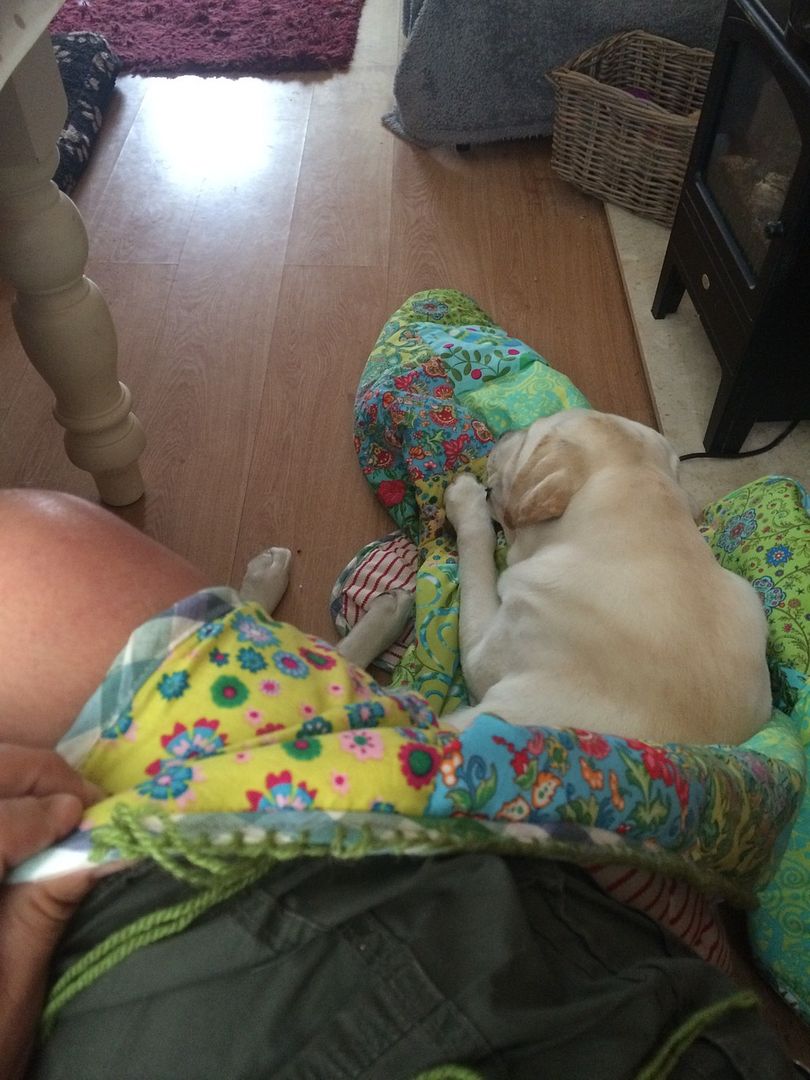 Once the blanket stitch is in place I simply added the crochet pom poms using this tutorial:-
http://onceuponapinkmoon.blogspot.co.uk/2013/09/pom-pom-edge.html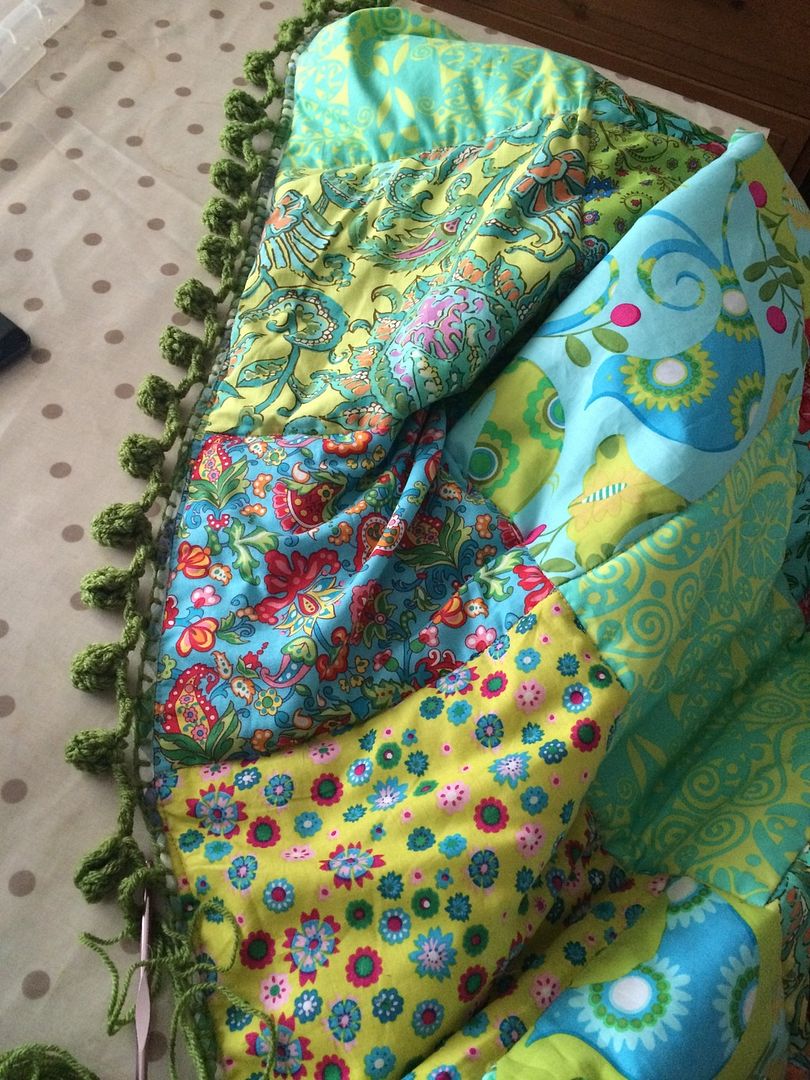 I spaced the pom poms by skipping every three blanket stitches (about 3cm)
STEP 5 - REMOVE DOG WHILST CROCHETING POMPOMS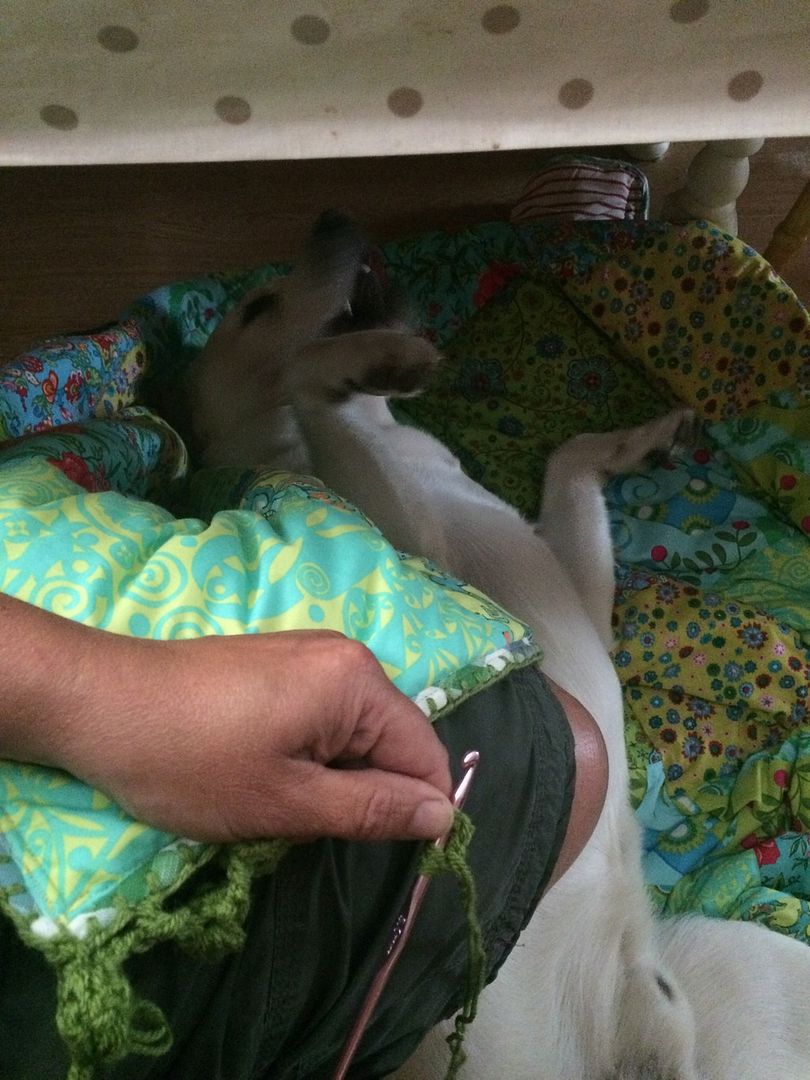 (I crochet pom pom edges onto all sorts now, is my favourite stitch :) ) And I managed to do the three sides successfully, so I don't wake up with a pom pom in my mouth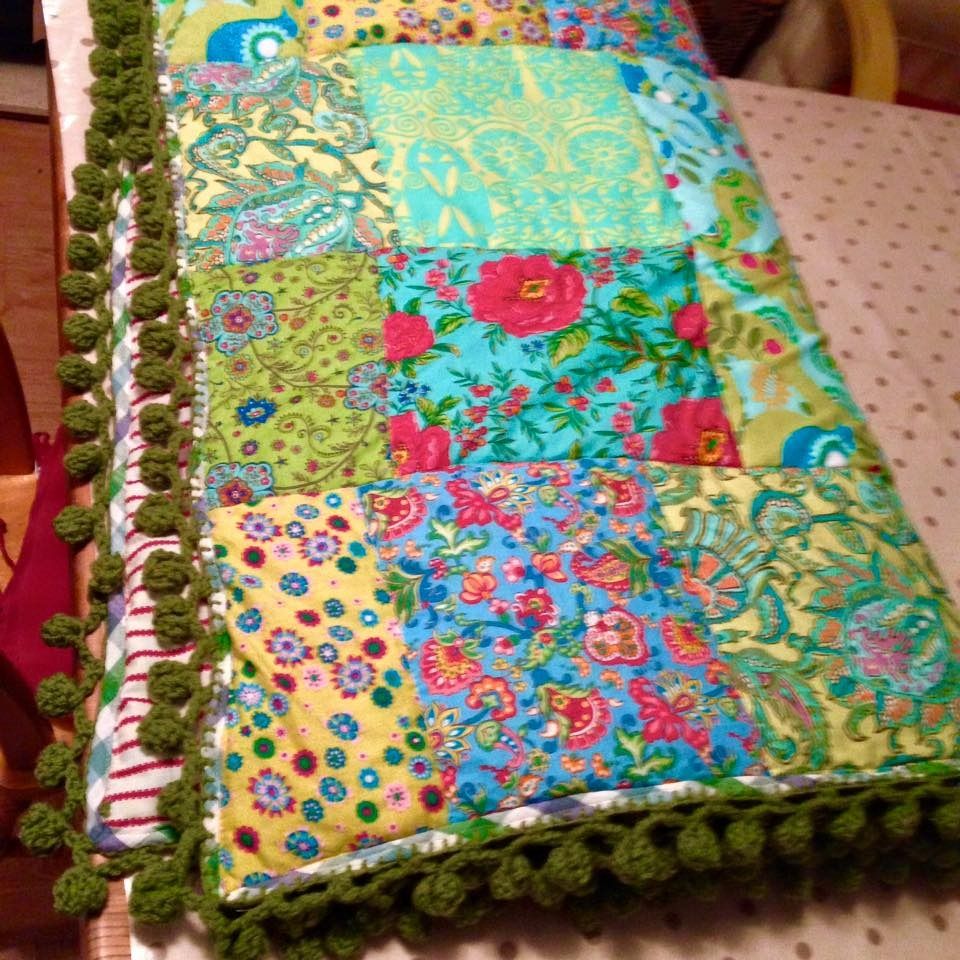 Finished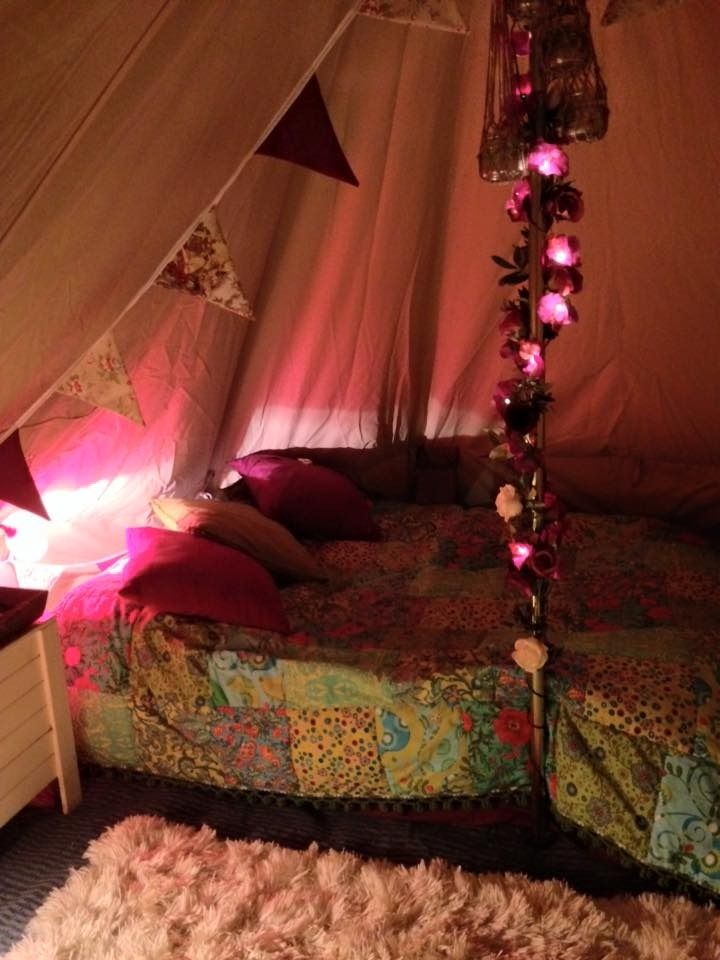 Lastly,pitching the tent in the garden, to make sure it looked ok :)
FINAL STEP - REMOVE DOG TO GET IN BED