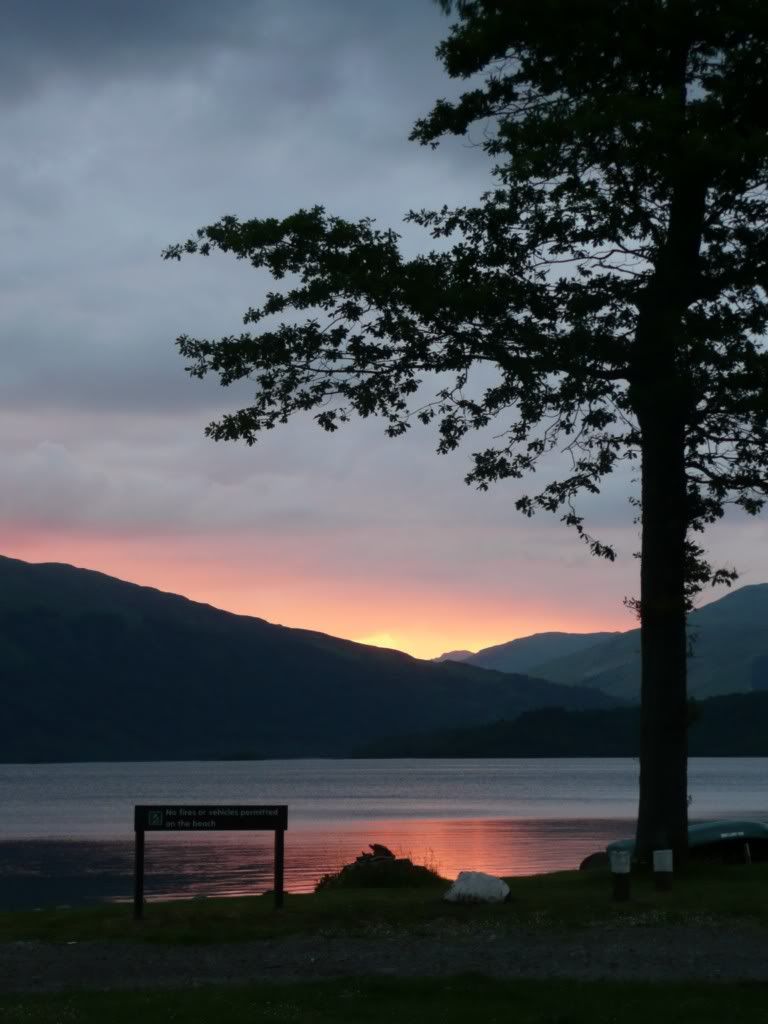 Set off from Glencoe and some pretty stunning scenery (well the back of a bloody motorhome for about 20 mile)
Went through a few roadworks (they have convoy vans running at 10mph to take you through the road works so you dont 'damage' the staff working...I wanted to wait till he got ahead then tear arse thru at 60mph...)
Arrived at Cashel campsite mid afternoon
The usual miserable bggr who ran the site was away and the temporary wardens were very accommodating. We upgraded the pitch from the grass area to a loch view with EHU. No extra charge as we had the C & C membership. They also threw in my orange Calippo FOC...liking the casual replacement staff....
Hmmm...i reckon these 2 pitches will do!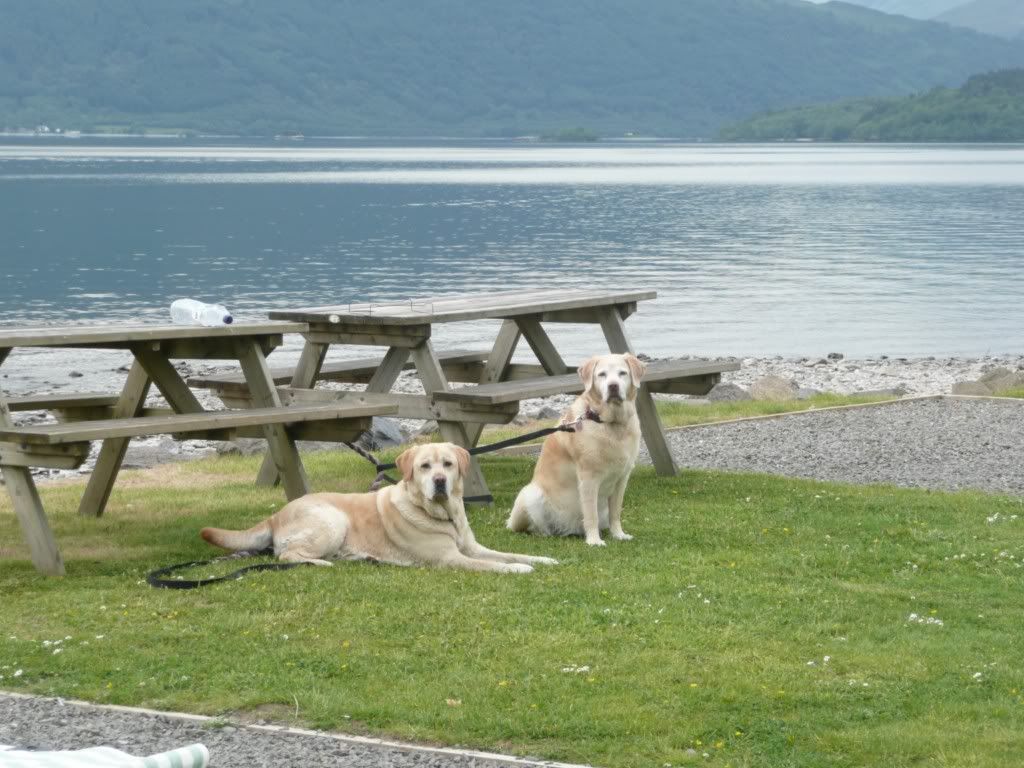 Not bad...first night...(this is probably about 3am in the morning as it never seems to get dark in Scotland)
It all started off so promising..!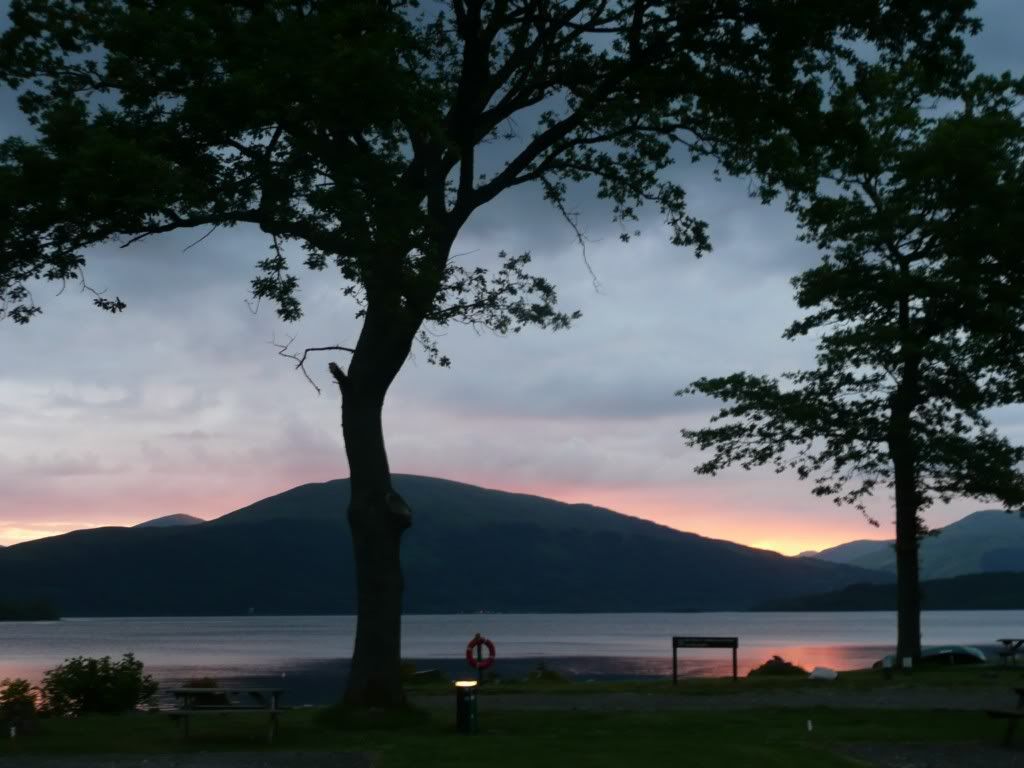 Even the facilities were brilliant. At one stage I even considered a shower, but slapped myself and got over that stupid thought
Next morning we set off for some retail therapy as we had seen a 'Retail Outlet' advertised in nearby Alexandria. Quite exciting as the largest shop so far in Scotland had been the co-op. Ooooh...Armani, Prada, Dior....? Or perhaps setting our hopes a bit high? Maybe more T K Maxx...? We followed the signs to a derelict building....(some sort of former mental institution perhaps?!)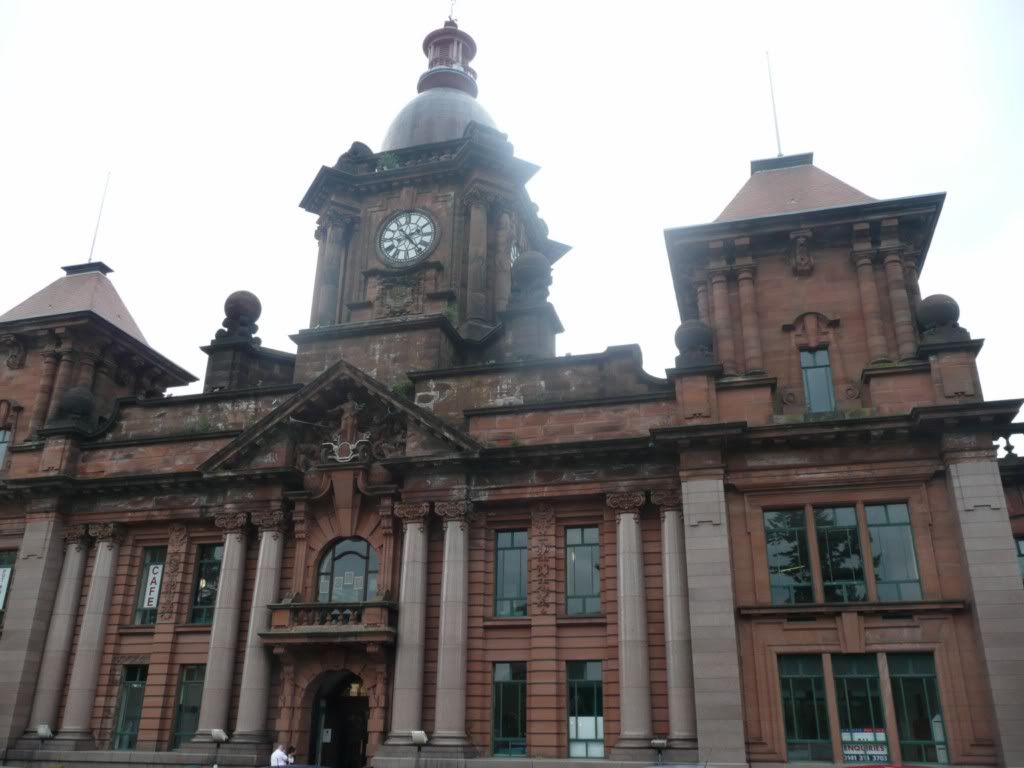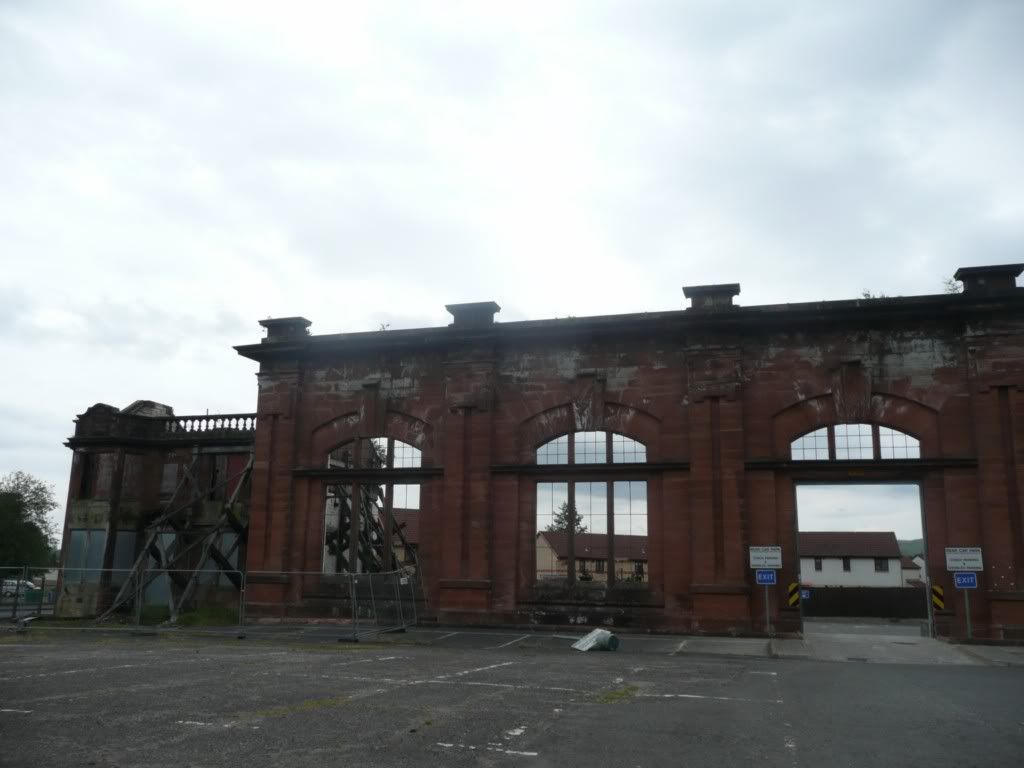 Then established that it had in fact moved to about 1/2 mile around the corner.
Rolled up at the new premises...now you're talking! (am thinking by this stage Armani may be ambitious)
So after trawling the wealth of delights of a pet shop, woollen mill rejects (this is third time we have come across this same merchandise since we have been here) and Ponden Mills (yes yes I bought throws), we left with a new collar for Homer and some chew sticks (which he wasnt very happy about as he couldnt reach them in the car)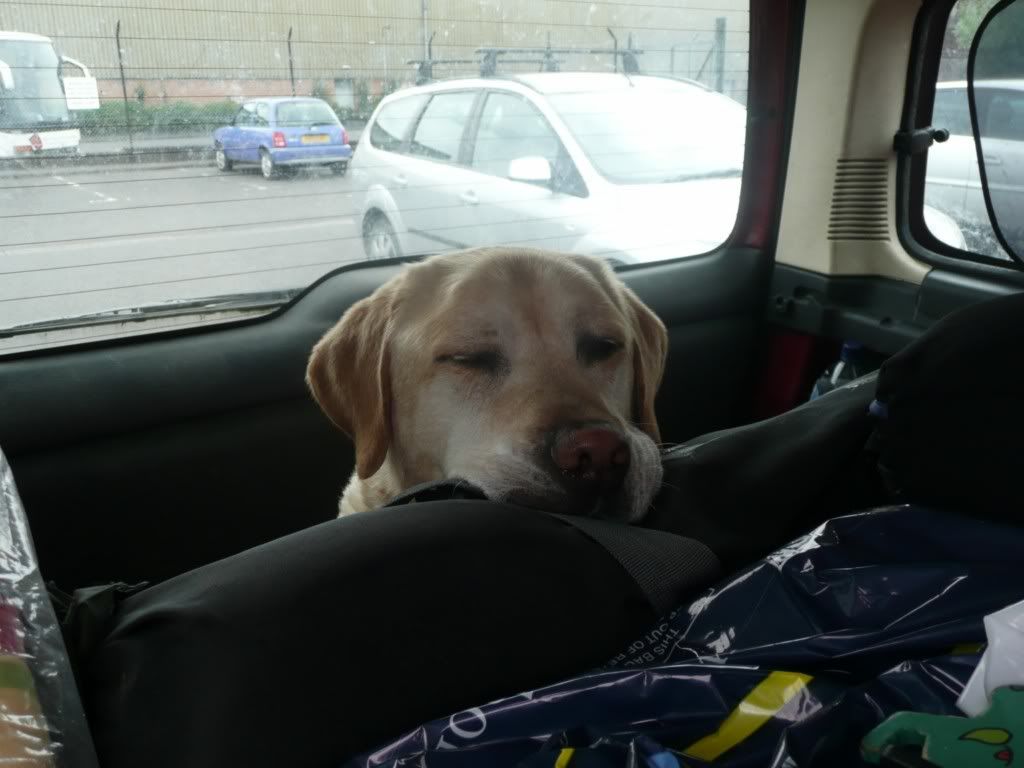 Back to the site via the co-op (I dont think we needed anything, they just became checkpoints after 2 weeks)
A quick look round Balloch Mall where I nearly bought some socks (that was the highlight) and back to the campsite
Went for a meal at the
Oak Tree Inn
that night. Nice little pub, but especially good as they didnt let dogs in, so they were stuck in the car (parked next to a couple of motorbikes so Homer had something to howl at). By now my entire body has seized up, so it was fortunate you could eat lying on the floor (made that bit up)
Not so sure about the tasteful sign on the ladies loo
That evening the weather forecast was a bit breezy...so we started taking a couple of precautions. To get into my entrance was now like the lazer maze on Mission Impossible (that is not a 'Wanted' poster with Homers face on it in the background)
I couldnt actually move the car for 2 days now or the tent would fall down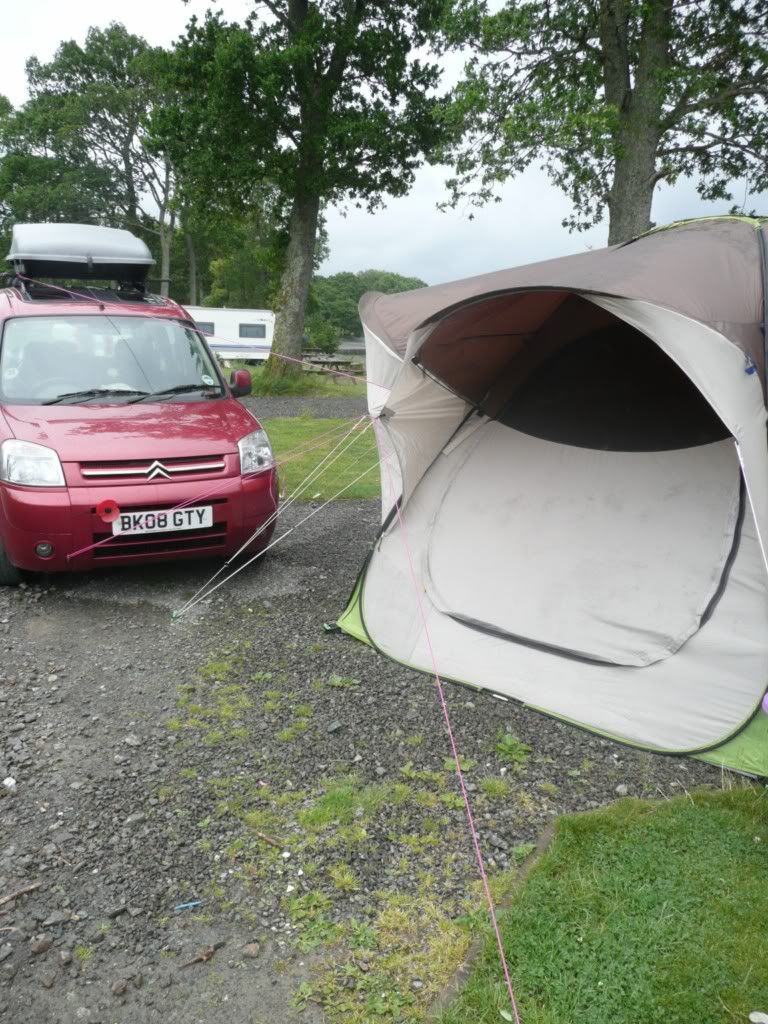 So we got a right battering that night. Next day we were due to go to a bbq at a friend of Annies. Leaving the tents would be disastrous tho, so Annie phoned to cancel.
An hour later we were on our way to the BBQ (must book Annie in for some assertiveness lessons)
Arrived at some pretty cottages and thought 'no way am I taking my unruly hounds in here'
Fortunately the owners (Joyce and .... (bggr cant remember his name?! Graham?!) had 5 trained gun dogs of their own - including 3 labs
However these were 'proper' dogs. They lived in kennels at the bottom of the garden, which had been adapted to join onto a summer house, so they could have a bit of socialisation at night (they had their own cd's, favourite whisky, bouncy ball, pool table, firing range etc)
They also had an escape hatch from the kennel into the room
We were offered a whisky each and Annie sneakily refused on the pretext of driving. I had to have one. This nicely anaesthetised my mouth. Next we were given some horses doofers - olives and posh crisps.
Stayed down the summer house whilst the dinner was being made (curried parsnip soup, lasagne and eton mess...yum!). Once we got the shout from the house it was ready, Annie strategically threw all the cocktail sticks (for the olives) all over the summerhouse floor. Graham joined us about 3 hours later when he had finished playing pick up sticks
Joyce asked if we wanted to bring the dogs in before or after dinner? (NEVER!!! Perhaps we could pass on this)
Bizarrely altho their dogs weren't allowed in the house (the 2 older ones slept inside at night), everything in there was labrador shaped. All the walls were lined with labrador themed plates, pictures, book ends, ornaments, golden furry wallpaper, labador head shaped saucepans (ok slight exageration)
In fairness I think a lot of the items were presents, and once you had a lab it only went to follow that your entire house must be lab themed. I will make a special effort to check out the labrador section in the co-op next time, as there are no other shops in scotland I can only presume they have a special aisle
So we scoffed our lovely meal with no thought of our tents sailing across Loch Lomond
Grudgingly as time went on I fetched the dogs from the car.....
Homer dragged me to the house on his 3 inch of loose lead (tight reins) and Barley was her usual gracious self
Sat on the sofa and didnt move for 20 minutes
Near disaster when the kitchen door opened...not only was there food in there, but also the adopted cat. I wasnt scared for the cats safety, more Homers....He was the roughest meanest hardest beaten up cat you ever met.....Even his feet curled in different directions, and god knows where his ears had gone
Fortunately he never spotted us and the door was shut quick
Graham (?!) tried a spot of training with his dog whistle on Homer and Barley. Barley at least made some effort to jump up when it was blown. Homer totally ignored it and tried to find the source of the garlic bread instead
Said our goodbyes and left and went back to see if our tents were still standing. Unfortunately they were.
Annie holed up for the night, taking the gas cylinders, tables, chairs, sherman tank, anything she could get hold of to keep the groundsheet down on the tent so it wouldnt blow away.
After a few hours of being holed up inside I got fed up and went for a mooch along the loch
It was pretty pleasant walking, as I think it was windier in the tent than outside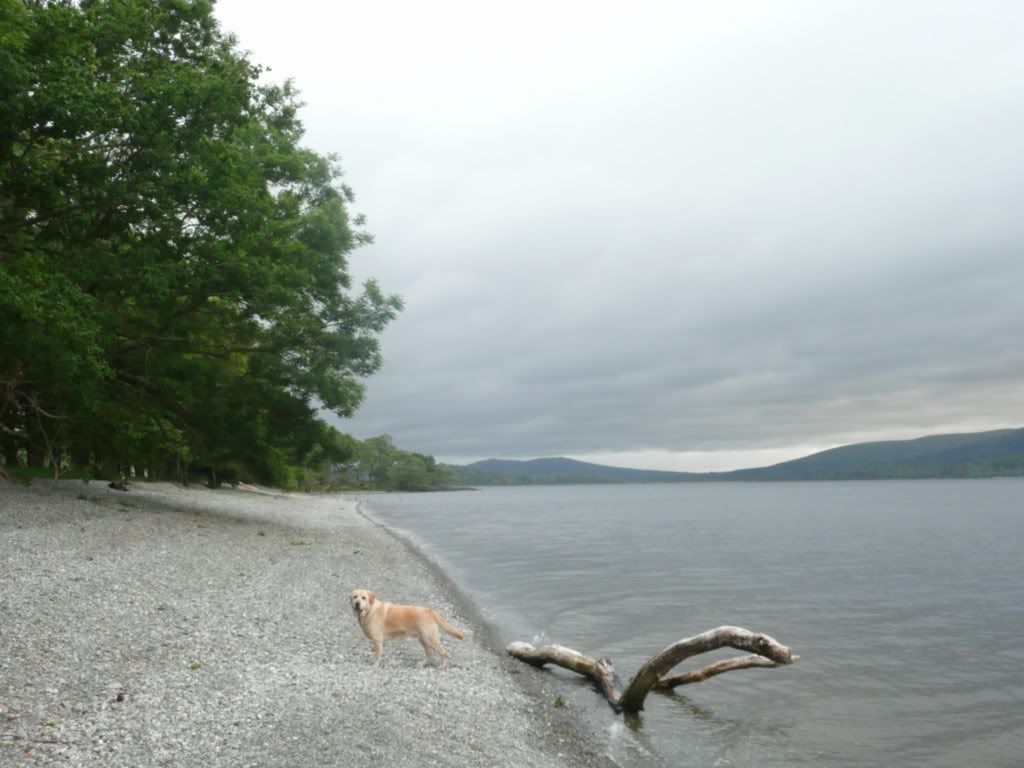 After negotiating this 'stile', much to the amusement of the motorhome owner watching me, I managed to bodily lift my 2 fat labs over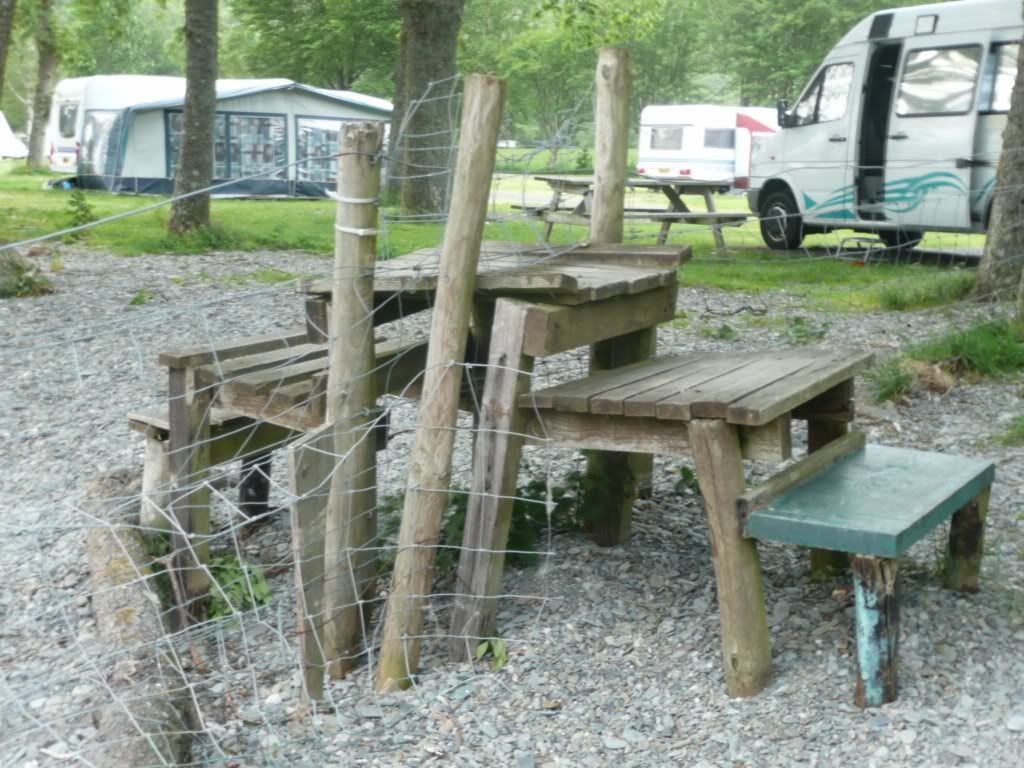 It was getting late so the dogs promised not to go in the water as they would never dry off before bed
Homer in the water
Obedient as ever
Then the leisurely stroll takes a twist as we come across an injured bird. Panic, as not sure how the dogs will react, and natural instinct would be to rip it to bits.
Too late, I think the gun dog training today had kicked in as Homer went over and approached it
The interpid Homer and his... 'wtf is it, does it bite???'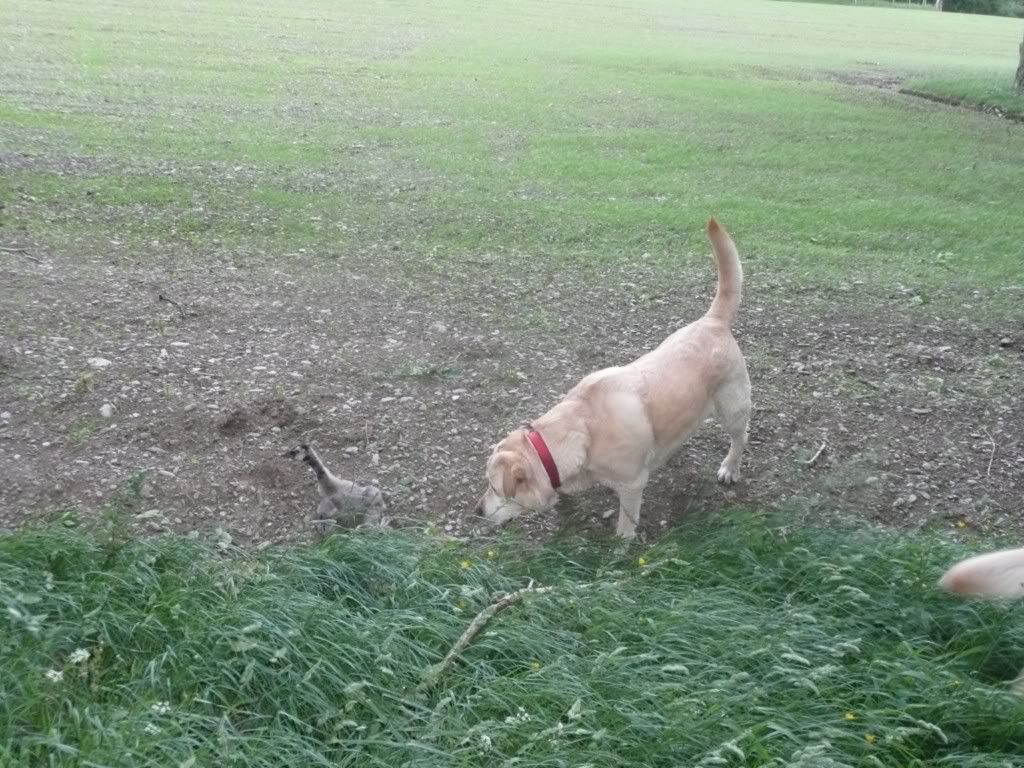 He needed reinforcements, and bravely standing back, he sent Barley in....'errr....nice birdie...we come in peace...'
Grabbed the pair of them quick, passed the soaking creatures over the style and dragged them back to hurricane city for another sleepless night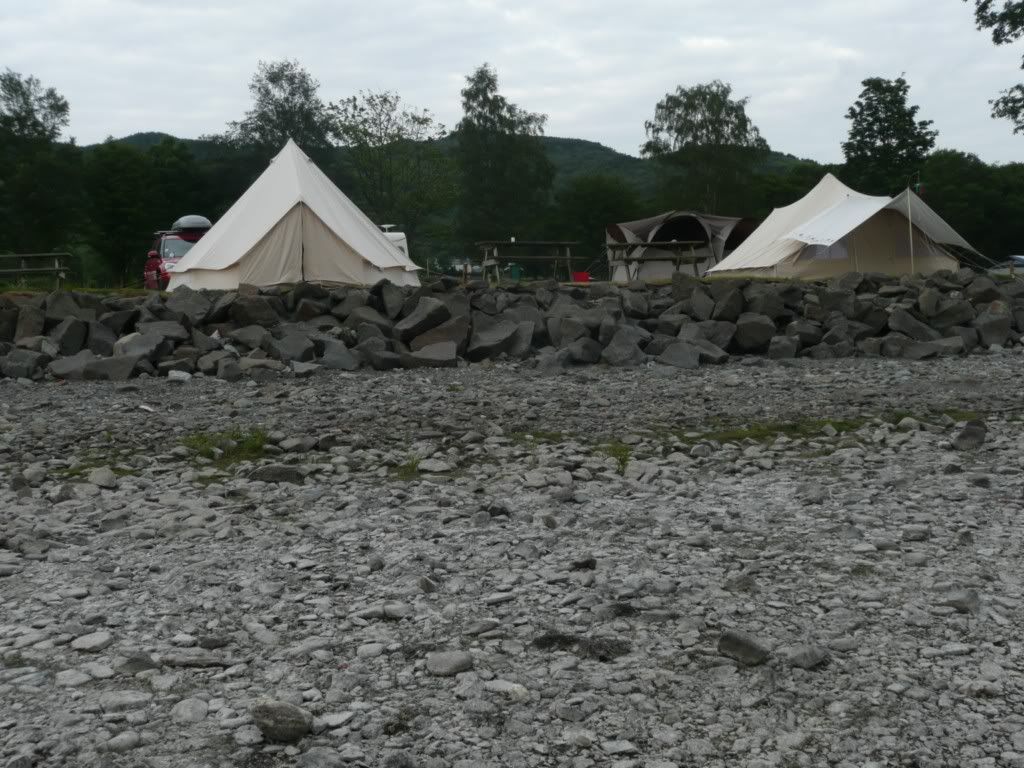 We had discussed staying another night here, but decided to pack up and clear off and see if we could book into a wind tunnel instead for a better nights sleep
We had booked a campsite in the Lake district (park foot) for the journey home, but being a bit despondent (suicidal in Annies case) we did consider driving all the way home.
I managed to persuade (grudgingly) Annie to stay the night so we could get some sleep and feel a bit more refreshed for the journey the next day. Pitched the soaking toerag by a stream (which looked like it was actually going to burst the banks but didnt like to mention it to annie, as I had chose the spot)
So a brilliant nights sleep (apart from the motorcross group, classic car brigade, noisiest scousers from Hell and naked mankini man on his little bike)
Sure that stream is rising...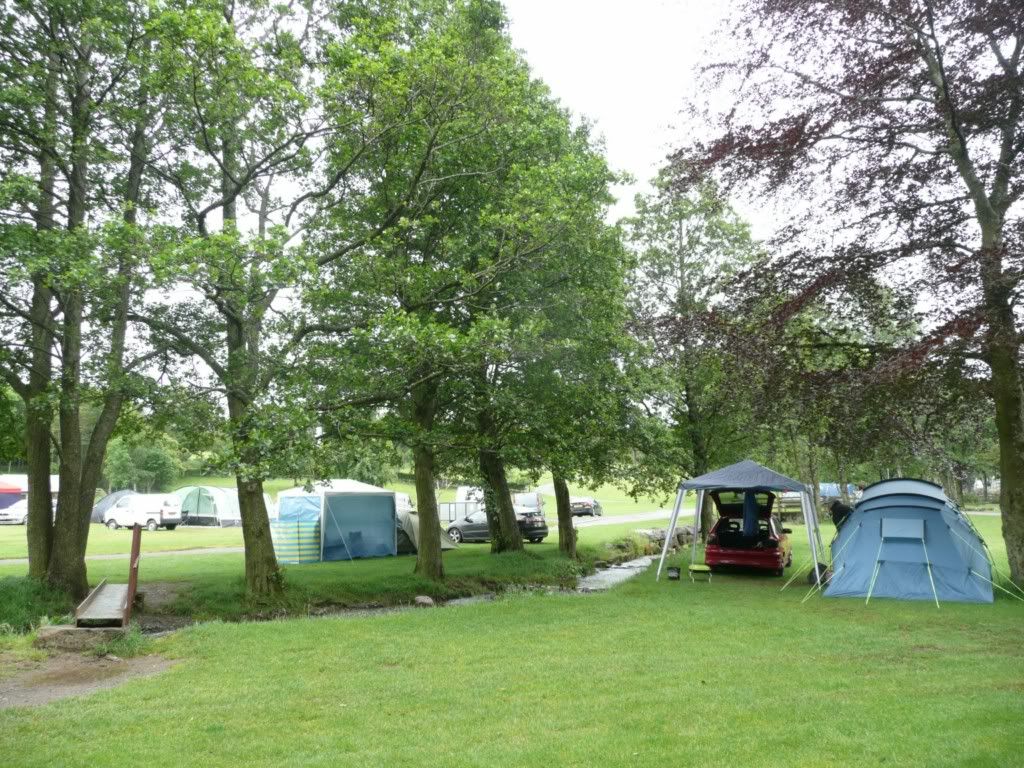 We decided to give the 'Kylie Tribute' night entertainment a miss on the campsite and went to the pub for a meal instead (looking back Kylie might have been better)
Meal was a bit grotty but even more annoying was a drunk/drugged/pain of a woman who decided to cuddle Homer and give him mouth to mouth. Evidently she had lost her yellow lab 6 years previously, at 19 years old. It had been a total shock (not being funny but he was blind and had cancer for 5 years so you wouldn't build your hopes up too much)
After mauling Homer and Barley for half hour we didnt know how to get rid of her, as she told us over and over again how nothing compared to 'Pen'. Annie had enough of her by now and cleared off to order toffee puddings
After hiding the dogs under the table she eventually left (she came back twice tho) until she finally said her goodbyes - she was probably staying on our campsite, as that was about the level of camper
And so another stop the next day at Westmorland, stocked up on Ultimate Tiffin cake and got home about 5pm
The End!!!
PS: Would just like to say thanks Annie for putting up with me and the dogs!
Had a brilliant 2 weeks, and have now found a place in my heart for Scotland, it was stunning.
I wouldn't have changed any of it
PPS: Finished the 3rd part of fifty shades. He finally got to use the butt plugs, but she had to wash them herself.