Finally returned from Scotland yesterday after our 2 week trek around. The travel plan was...
1 night at
Tyndrum
(North of Loch Lomond)
3 nights at
Applecross
4 nights at
Skye
4 nights at
Glencoe
3 nights at
Loch Lomond
1 night at
Ullswater

So armed with a car packed to the ceiling, 2 mutts, midge spray, nets, hats, nuclear midge extractor, vitamin a through to z, garlic capsules, sonar midge detectors and arrangements to meet Annie at
Westmorland Services
in Cumbria, we set off Saturday morning
All went to plan and we had lunch, bought the entire stock of chocolate tiffin from the farm shop and set off for an overnight stop at Pine Trees in Tyndrum. We had to get petrol and provisions for the next few days so I suggested we stop enroute - Annie reassured me we would get petrol and food further up the road.
The route took us up past Balloch and to the side of Loch Lomond where we stopped for a coffee and a dog paddle.
Quick photoshoot for Bert in his scottish attire (he spent the rest of the time facedown in the wicker basket). The dogs are avidly watching Annie throw coffee all over herself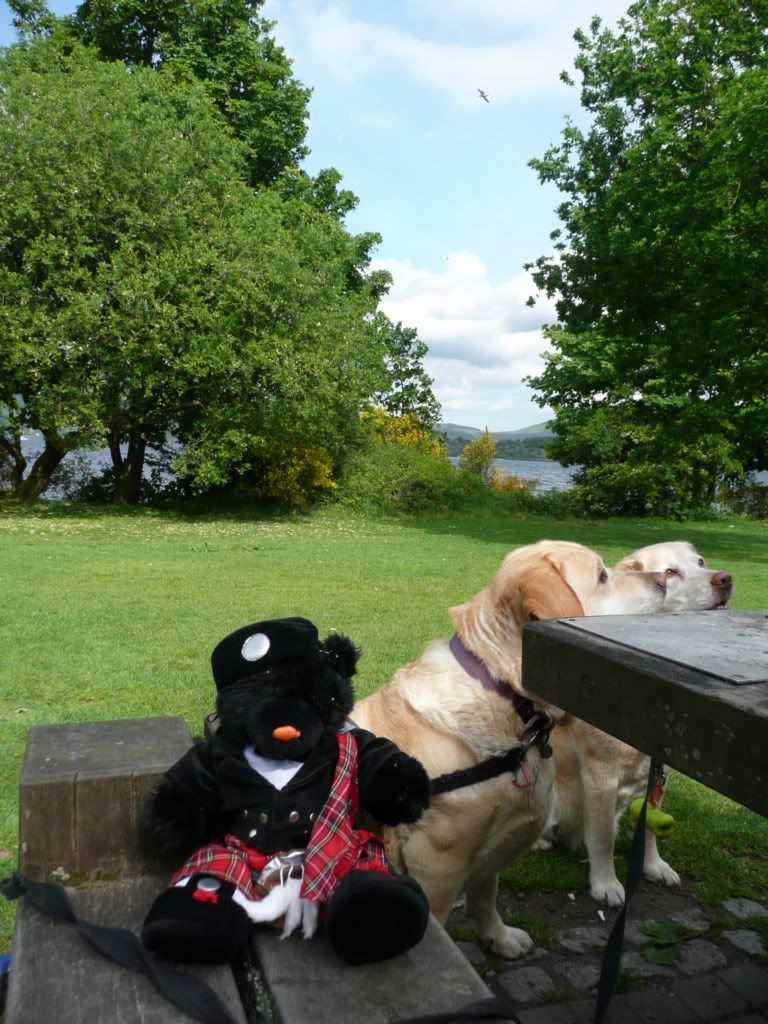 Also our first encounter with a group of T2 owners who were doing a weeks tour (very brave) of Scotland. It turned out we would be overlapping at a couple of sites and we did bump into them again at Applecross and Glenbrittle. Apart from petrol leaks and a hitchhiker breaking over the van door handle, I think they got through the trip pretty unscathed. The men in the group were very friendly, but the females seemed to regard us as VW groupies and just grunted at us whenever we waved or said hello
So refreshments over and a few enquiries, 30 minutes later we arrived back at Balloch to get food and petrol.
After the excitement of finding a shop in Scotland we were asked 'did we have a co-op saver card?' Nooo we don't need one.
In retrospect after 2 weeks of scottish co-ops and buying pretty much their entire stock of food, i think the saver card would probably have funded our petrol for the entire journey.
Carrying on we drove up to Tyndrum for a night in the pod. The dogs were by now bouncing off the car walls, so we unleashed them into the pod....where they started doing cartwheels over all the beds
Phone signals were a bit of a rarity in caveman land, so Annie caught up with a few texts while Barley had a snooze. Annie didn't need much bed anyway...
10 seconds later, jealous Homer wanted Annie bed space. However he got bored easily and played his own gurning comptition while waiting for Annies attention...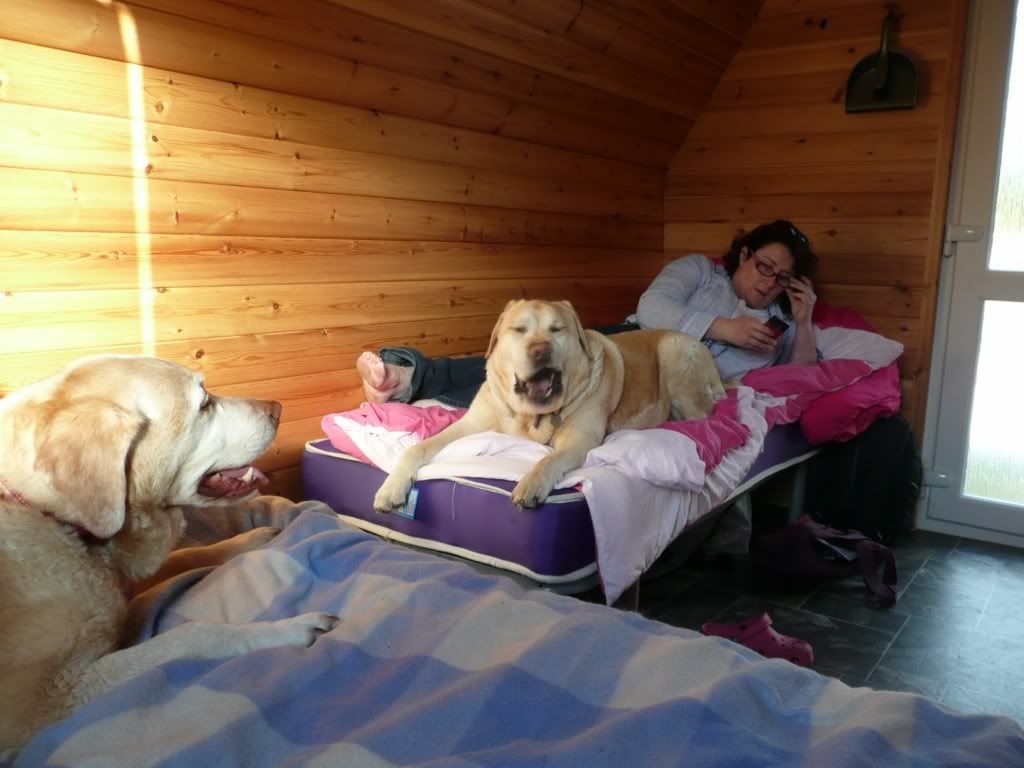 That didn't work, so he stomped all over Annie instead
Homer then helped Annie with the chilli. Annie demolished the packed car and managed to locate a pan and plates so they then started heating the chilli. Homer was chief tester unfortunately and low level stoves aren't very Homer proof, so we had to snaffle half eaten chilli back complete with dog hair garnish. (Annie probably regretting trip already..but at least it will put her off wanting a dog)
Went for a walk round the campsite before bed, and showed Annie some good short cuts...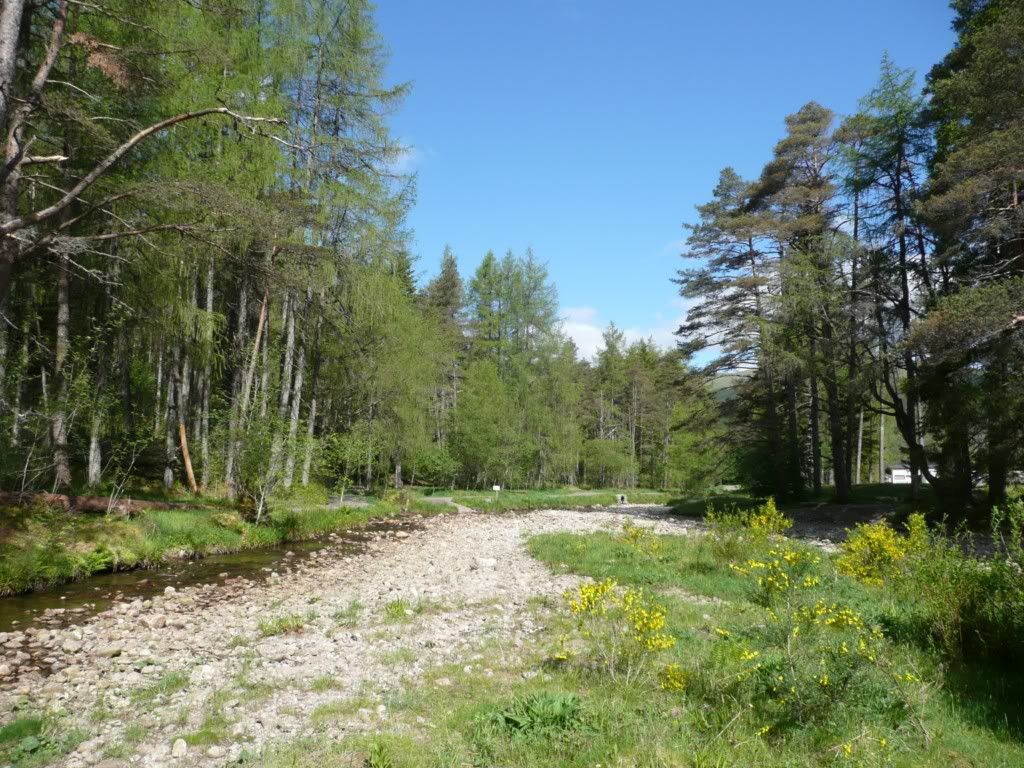 Went back and dried feet. Snuggled down for night with wet snoring dogs, ready for journey to Applecross tomorrow
Stopped off at the 'famous'
green welly
...was bggr all there but excitement of more than one shop in Scotland made it a must see
Carried on Northwards and stopped off enroute at somewhere beginning with 'D' (see this blog is a puzzle as well, as I haven't clue what the name of the place was)
It was just past one of the many 'Eilean' castles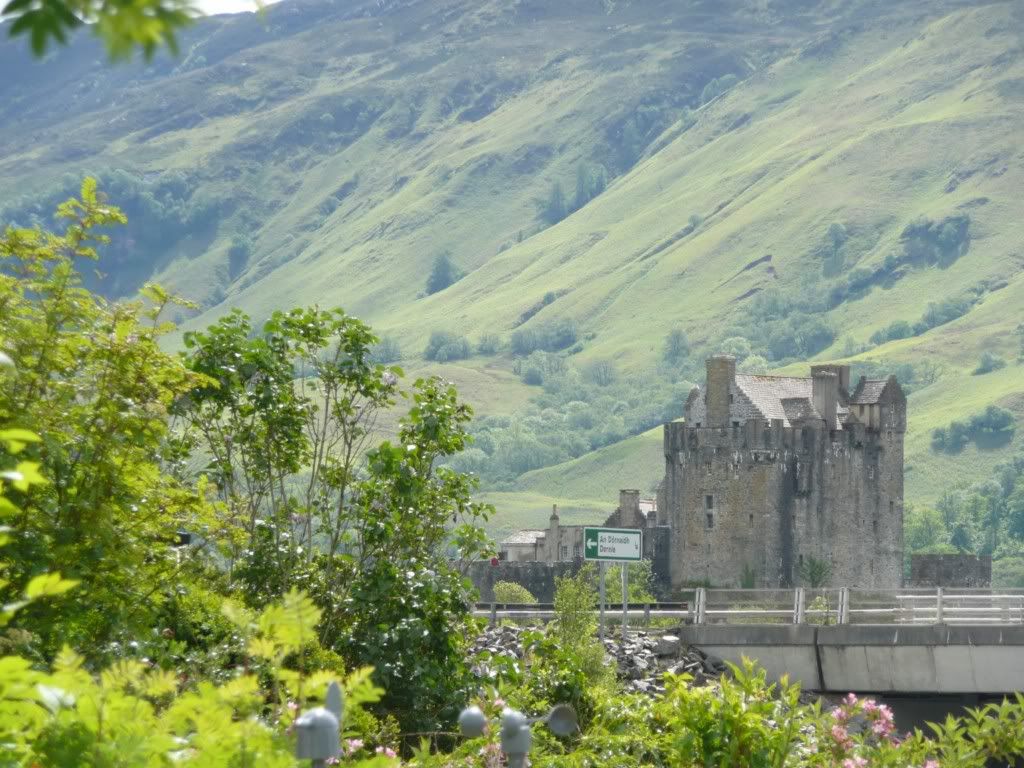 1/2 mile detour took us to a pub lunch of baked camembert and bread. was yummy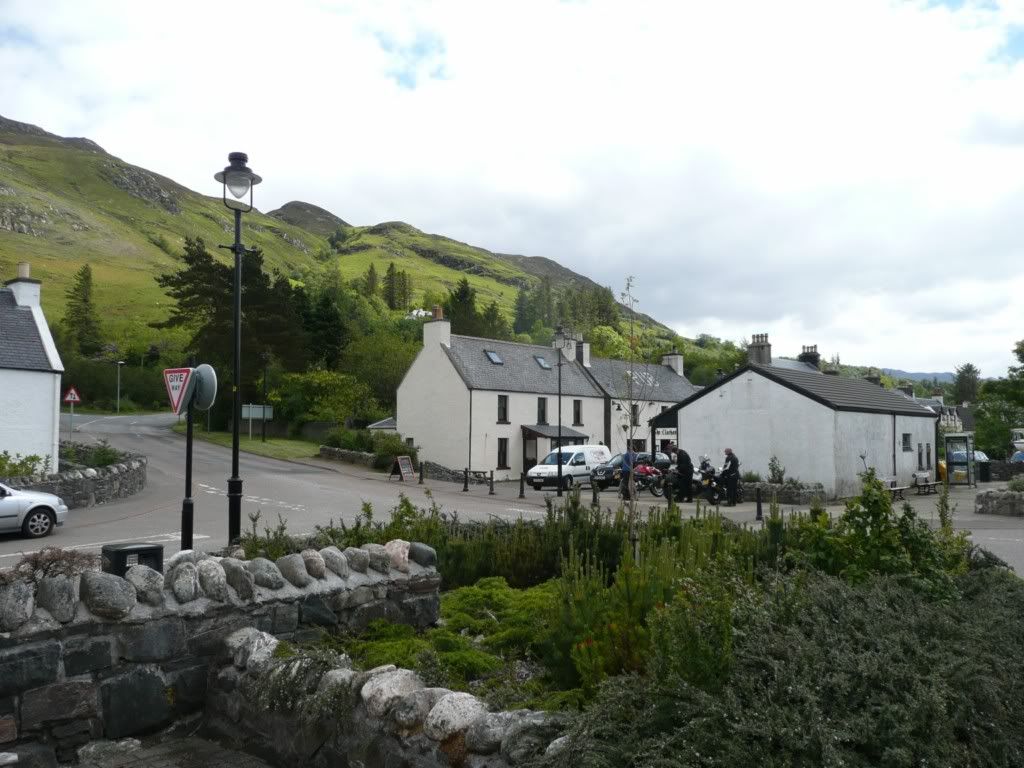 Homer tried out his charms on a couple of Europeans sat next to us, as she appeared to have left half of her camembert. It was only after an hour she actually finished the whole meal. Obviously Europeans eat much slower than Annie and me, or have yet to learn the defensive survival mechanisms required to eat safely in Homers presence
Left the pub and asked Annie if she minded driving out via the 'viewpoint'. Would just like to apologise to Annie as I didn't realise this meant driving up a bloody mountain..was a nice view anyway...
Barley by this stage decided to be a passenger in Annies car for the rest of the journey. I have no idea why she no longer wanted to sit by wet farting belching hog the seat Homer.....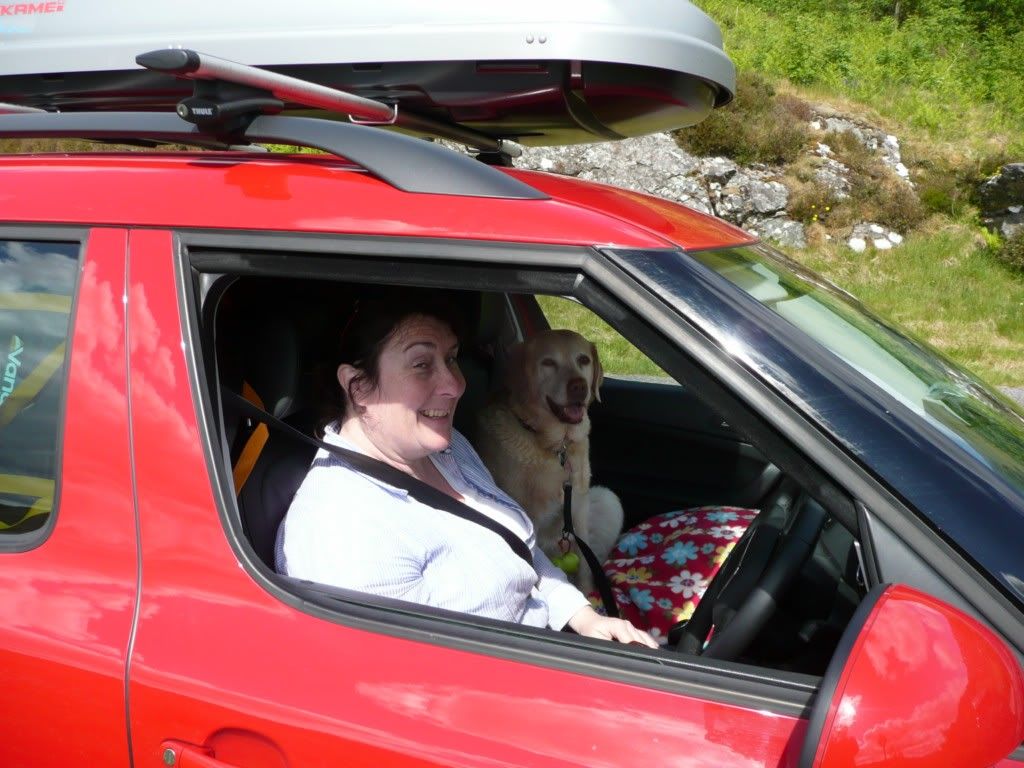 And so it continued until we reached the road into Applecross...
(just had a google it is
Eilean Donan
castle and place was
Dornie
!)